There is a blog party going on at 'Dancing Barefoot' (there are WAY to many 'barefoot' blogs...) I thought it looked neat, so here I go!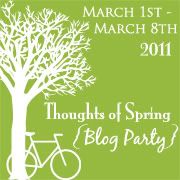 How would people describe your personality? (If they could only use ONE word.) Are they right?
A: um...I don't know....I have had some people say meek, but I DO NOT think I am meek...I would say I am more like 'creative'.
What celebrity/celebrities would create a "Star-Struck" feeling if you saw them in real life?
Natalie Portman. Without a doubt.
Who is your favorite blogger? Why?
I have to many to post here. Okay, well, I guess a few are
Shaynie
,
Qui
,
Leia
,
Jo,
Emily
,
Autumn
, and
Ellyn
. There are tons of other cool girls...I don't follow blogs unless you're awesome! ;-)
What is your comfort food/drink?
CHEESECAKE. I have a pretty big weakness there...but does that count as comfort food? If not, maybe Chicken noodle soup.
Be brave – tell us something very random and weird about yourself.
weird and random...I have PLENTY of 'random' things, but weird? I guess that I have always wanted to be Darth Vader for a costume party....does that count though? Okay...I want to dye my hair black or red as well. But not at the same time.
Movies: Action, Drama, Romantic Comedy, Documentary, Comedy? What are your favorite genres?
All. That is it, If it is a movie, I'm happy. That is, as long as the music is good in it.
Books: Fiction, Non-Fiction, Romance, Biographies, True Stories, Self-Help, Devotional/Study? What are your favorite types of reading material?
Fiction. Or Sci-fi.
Music: Funk, Rock, Country, Jazz, Classical, Film Score, Blues, Classic Rock, Crooner, Alternative, Heavy Metal, Techno? What are your favorite types?
Film score, country, Christian rock and maybe some classic rock, all depending on the song itself.
If you inherited a million dollars, what is the first thing you would do with your money?
Buy a Canon mark 3. Then I'd buy a Thunderbird Convertible.
Name one weakness of yours (confession is good for the soul).
weakness....Music....Cheesecake....Vintage clothes....High heels....movies.....Accents...
If you could live anywhere at all (and take all your loved ones with you), where would you go?
Ireland, or Paris. Most likely Ireland though. If I lived in Ireland long enough, could I get an Irish accent?
Strange Talent? Can you juggle basketballs, put your legs behind your head or perform some other strange feat?
I'm perfectly normal...thank you! I can make a fairly decent Aussie accent though.
What's something you consider yourself to be good at? (Don't worry, it's not bragging, it's acknowledging a God given gift).
Photography is my talent. Writing is my hobby.
What is one of your favorite things to catch a whiff of?
Vanilla icecream scented candle and maybe a crayons too. Yeah, I said crayons.
When you leave a social gathering, do you wish: You would have talked more or You would have talked less?
Probably the less.
If money wasn't a factor, what stores would you shop in?
Cato, other really cool Vintage, retro stores.
What is your greatest fear or strange phobia?
I don't truly have one.
well, I'm kinda shy to folks I don't know.
What is your greatest accomplishment?
I haven't done much in my 15 years of life....
What are your favorite animals?
Goats and Horses.
Are you a hopeless romantic?
uh, maybe? What is a hopeless romantic?
What movie or book character can you most relate to?
Jo from 'Little Woman'. I share SO many things with her...
Your turn!
Before I get off, I'd like to wish my friend Emily a happy birthday though......
HAPPY
BIRTHDAY
EMILY!!!
Here are you some cupcakes...
And some cake!
Have a fantastic day....JUST LIKE YOU!