It might come as a shock to you, but even though my family lives in FL, we don't go to the beach much. We have gone a few times to collect shells, or watch a sunset, but we haven't gone swimming at the beach since I was a wee lass. So, yesterday, we all packed up, and headed to St. George Island.
Sorry it's sideways, but see, she's a whale!
The little Kids had a blast, swimming, burying each other, collecting shells, building castles.
Sea gull feather held up against the setting sun
And, for the first time ever, us Older three children went Sand Dollar diving. It actually wasn't as hard as I thought it would be. Feel with your feet for a Sand Dollar bed, and then dive down, grab the ones you like, or just grab a handful, resurface, and toss out the ones you don't like/need. I even got to see a Flounder. I dove down, and nearly bragged him up, thinking he was a huge sand dollar. He was a little fish.
After we swam for a long time, we took a walk along the beach. I got most of my pictures then, since I was dry, and wasn't afraid of getting my camera wet.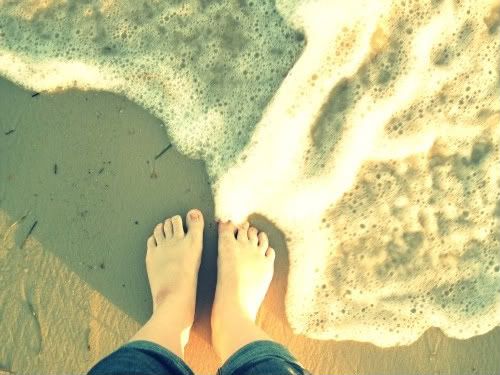 A had a pair (HAD) of Red and Leopard print New York and Company Sunglasses. But, I was running alongside the waves, and they dropped out of my pocket. I didn't know until I stopped running, and by then, they were gone. washed away. a pair of expensive glasses. I CAN'T believe I was so stupid and ignorant. *picard face palm*
I got some rather good photography! I know a lot of people like to go to the beach to get a tan, to swim, to shell hunt, but as long as I get my buckets of pictures, and return with no sand in the lenses, I'm cool.
Which, the "I'm cool" part just reminded me of a quote...
"Welcome to cool ville, population, us".
That movie is heartbreaking, lovely, and timeless. It should be more popular.
If you never watched Iron Giant as a child, you are missing out, muchly.
Muchly isn't a word...*shrugs*. Now it is.
Well, I'm starting to ramble...
Sighed with Iron Giants,
-Ashley